OMA LOGISTICS COTE D'IVOIRE
OMA Logistics Côte d'Ivoire works as your local partner. We give you the tools and detailed information you need to make the supply chain logistics process easy to navigate, whichever industry you work in, wherever in the world.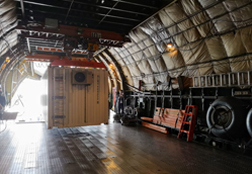 With offices in Abidjan and San Pedro we serve the most important international gateways for sea and air transport for cargoes destined for Côte d'Ivoire, or cargoes in transit to Mali or Burkina Faso.
Our logistics division serves the entire sector and offers solutions for mining, oil & gas, energy & Infrastructure, project cargo, exhibition goods, commercial cargo, temporary imports and LCL; by air, sea and road, including transit cargoes to Mali and Burkina Faso.
Our sister company OMA Côte d'Ivoire provides ship agency and husbandry services for vessels calling at Abidjan and San Pedro ports, is agent for Hapag-Lloyd and offers support services to our customers in the Oil & Gas industry.
SETTING THE STANDARDS IN COTE D'IVOIRE
We are currently investing in an Integrated management system based upon ISO 9001:2015 and EMS 14001:2015 and are working towards certification in 2019.